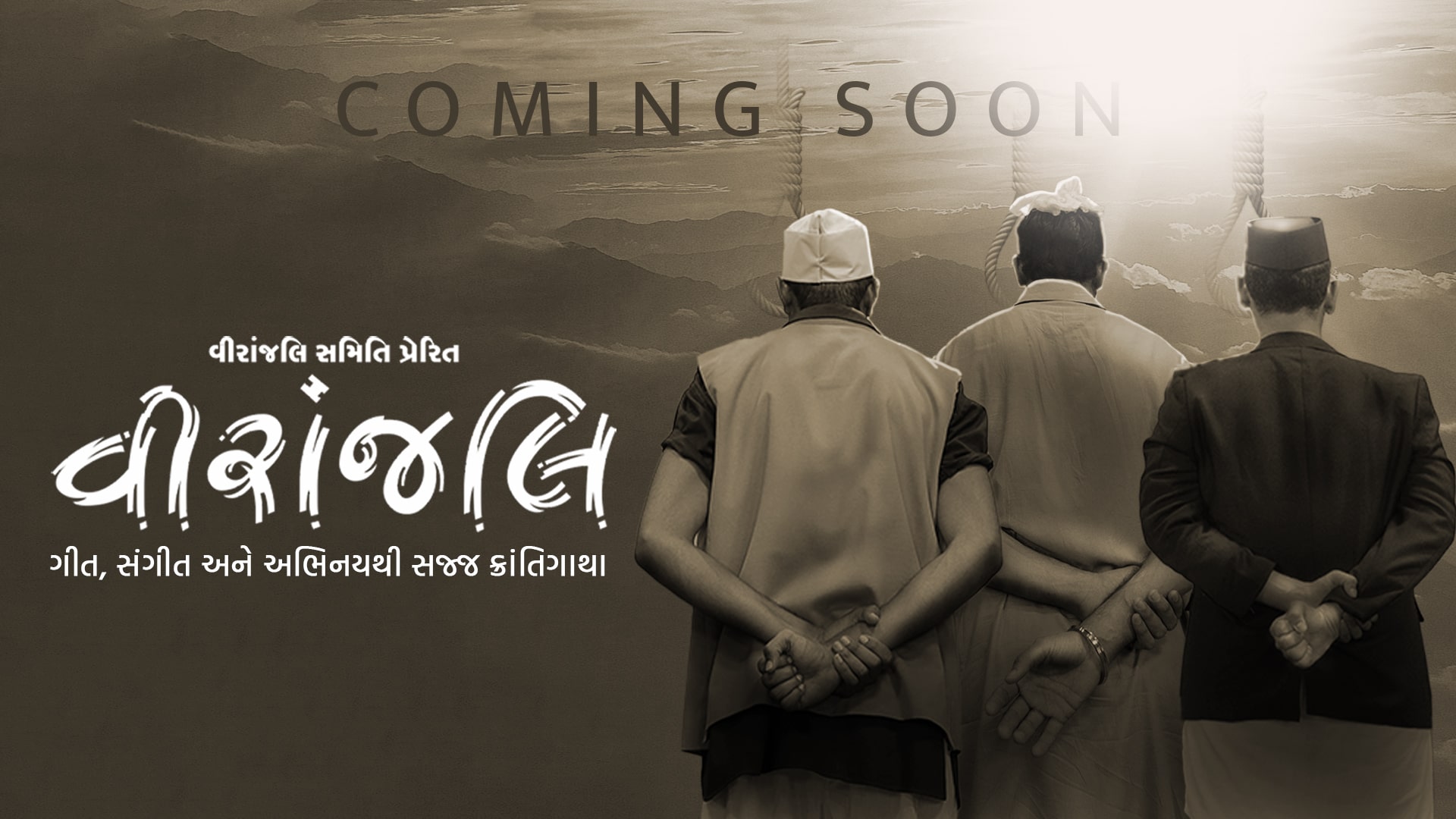 VIRANJALI
A GREAT TRIBUTE TO MARTYRS IN THE PRESENT ERA
"There will be a celebration every year; On the cremation fire of Martyrs, And this is the identity of Martyrs."
These were the last wordings our 3 great revolutionaries – Bhagat Singh, Sukhdev and Rajguru before their death sentence.
On 23rd March 1931 these three revolutionaries were given death sentence. Perhaps that time on-wards 23rd-March is observed through-out our country India as – "The Martyrs' Day". Since last 12 years there has been organised a mega event without a break in the surroundings of BAKARANA and SANAND to pay a real tribute to such martyrs under the guidance and support of a young leader and real patriot Shri Pradipsingh Vaghela. Even this mega event is dedicated to the entire nation with the support of same patriotic folklore and with a new literary composition without any bars.
MISSION OF VIRANJALI PROGRAM
TO AWARE & INSPIRE THE HEARTS OF EVERY INDIANS WITH THE SACRIFICE OF OUR GREAT MARTYRS
The great martyr history of our country is almost on the pages. Though it should reach till the heart of the citizens, it has remained till boundary of any programme.
Hence this will be staged with the mega musical drama event. It will be performed with more than 100 well known artists in the company of folklore laureate – SAIRAM DAVE. This entire script and all the songs' lyrics are from SAIRAM DAVE in his own diction and even he too shall perform on the stage where eyes would be constant alive with tears. that is untold guarantee for this program.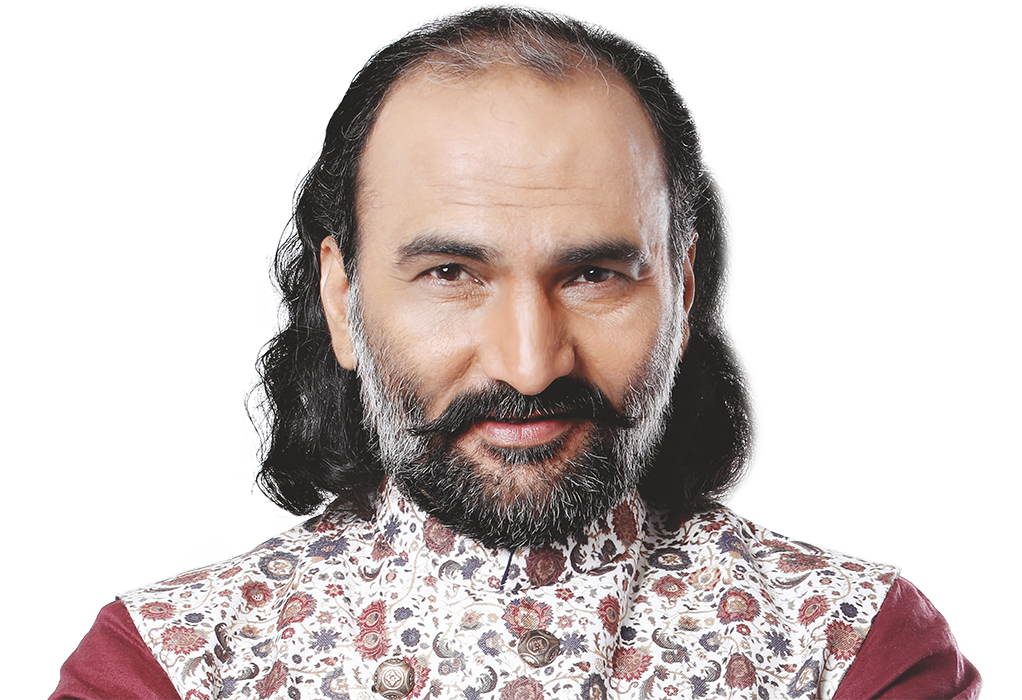 JAMNAGAR VIRANJALI 19/6/2022
SURAT SARSANA VIRANJALI  14/6/2022
SURAT LIMBAYAT VIRANJALI 13/6/2022
BHARUCH VIRANJALI  11/6/2022
AMERELI  VIRANJALI 4/6/2022
SURENDRANAGAR VIRANJALI  1/6/2022
VADODARA  VIRANJALI 28/5/2022
BHAVNAGAR VIRANJALI  25/8/2022
BHUJ  VIRANJALI 10/4/2022
RAJKOT VIRANJALI  2/4/2022
KARNAWATI  VIRANJALI 23/3/2022
NIKOL VIRANJALI  24/3/2022
PALANPUR  VIRANJALI 31/8/2022
MORBI VIRANJALI  7/9/2022
GANDHINAGAR  VIRANJALI 20/9/2022
VIRANJALI
A MEGA MUSICAL DRAMA EVENT

SAIRAM DAVE has pen-pictured Bhagat singh, Sukhdev and Rajguru with their own feelings, the post funeral social condition of their family and family members, their memories, their existence in routine life, and to make their pictures in present youngsters' mind is the main goal of this "VIRANJALI – A TRIBUTE TO MARTYRS".
The playback singers – Shri Kirtidan Gadhvi, Divya Kumar, Shri Osman Mir, Geetaben Rabari, Shri Bhaumik Shah etc. have devoted a lot.
Directed by  Renowned  Director  Shri Viral Rachh,            Shri Rahul Munjariya's music composition and Shri Ankur Pathan's choreography adds on nice mixture to the patriotic world which is visualised with a great co-ordination sense of Shri Jitendra Bandhaniya.
The Viranjali program has been presented in 17 cities including Ahmedabad, Rajkot, Surat, Vadodara, Gandhinagar, Mehsana, Bharuch, Amreli, Jamnagar, Bhuj and Bhavnagar. More than 3.5 lakh people have watched this multi-media show live, while more than 12 lakh people have watched the show virtually live on various platforms.
ABOUT VIRANJALI COMMITTEE
This VIRANJALI- A GREAT TRIBUTE TO MARTYRS is the first time mega show not only in Gujarat but also in India to pour the patriotic feelings among the youth of our country. The VIRANJALI committee members work here honorary where their lofty goal is only and only patriotism. No chair war takes place there as there is no one as a chair- person. Shri Pradeep Singh Vaghela, Shri Jakshesh Shah, Shri Amit Dave , Shri Rutvij Patel, Shri Ilesh pansuriya, Shri Darshak Thakar and their teammates pay a great efforts to make this mega event successful.
VIRANJALI
A MEGA SHOW TOWARDS GREAT TRIBUTE TO MARTYRS
"VEERANJALI – A GREAT TRIBUTE TO MARTYRS" is a mega event show with multi-media project. 
This mega event is fully free and open for all as its target is not the flattery or gain with political back-ground but to pour the patriotism in youngsters.
Be ready to be a witness of unknown, forgotten, hidden and unattributed patriotic figures and moments of our blood-sheded freedom history. Let's wait for this mega event……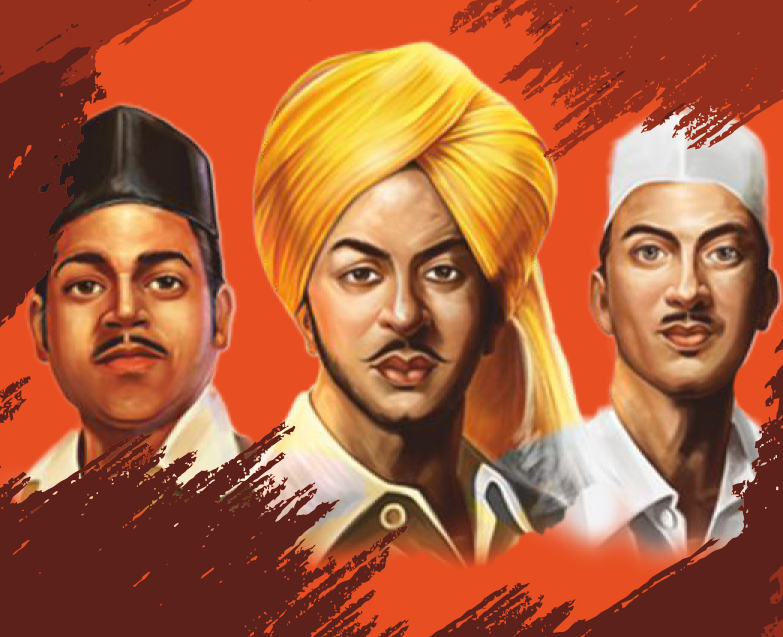 In Memory of Freedom Fighters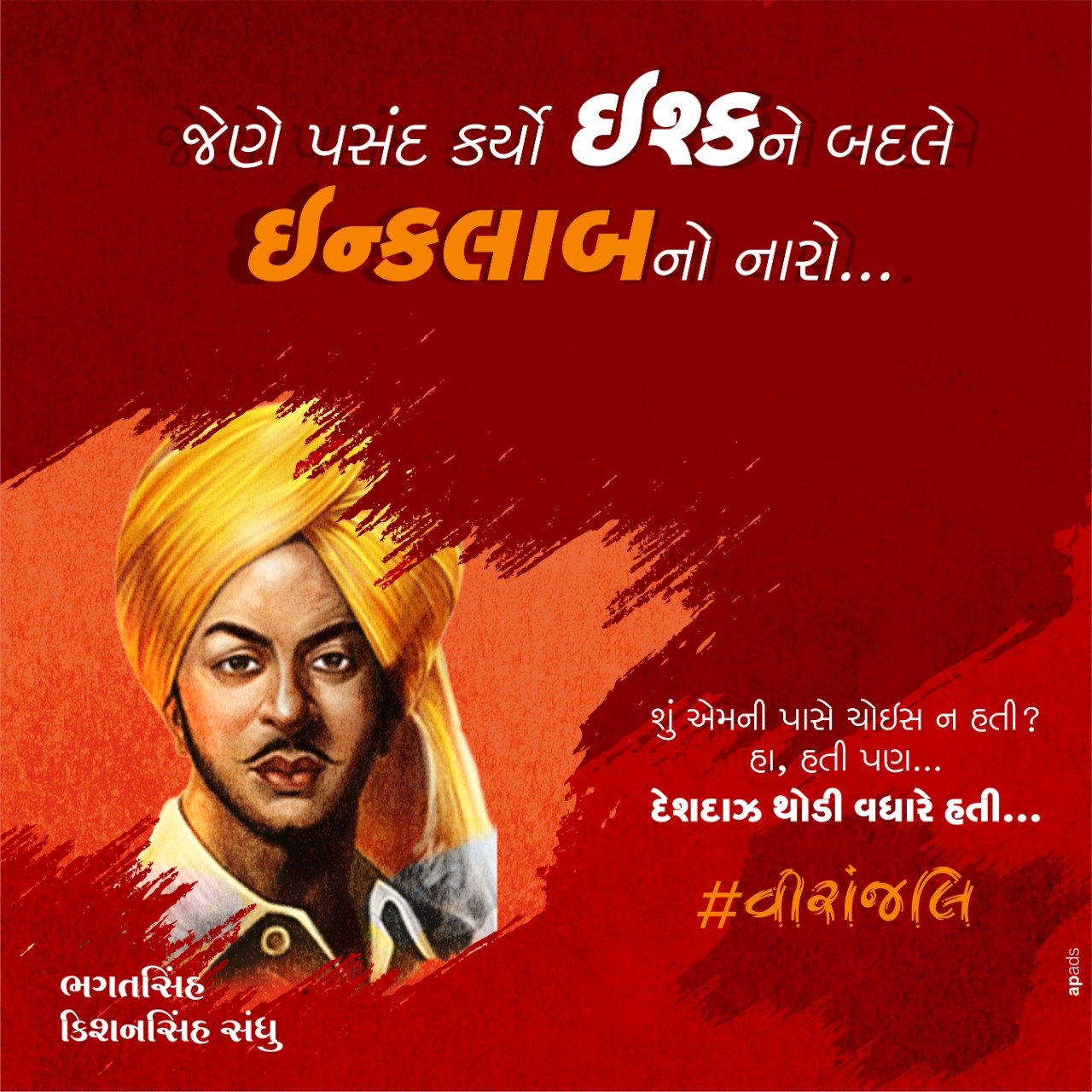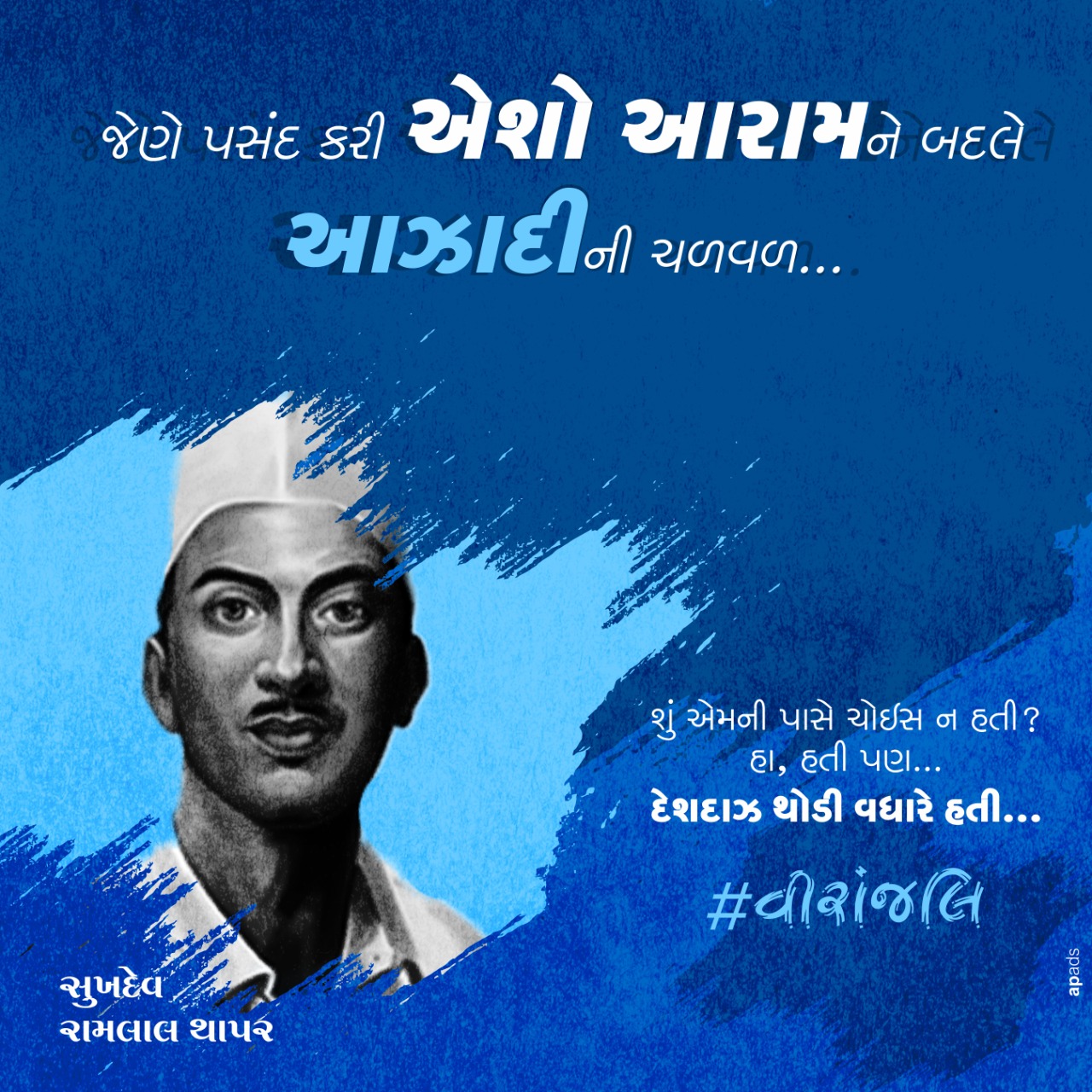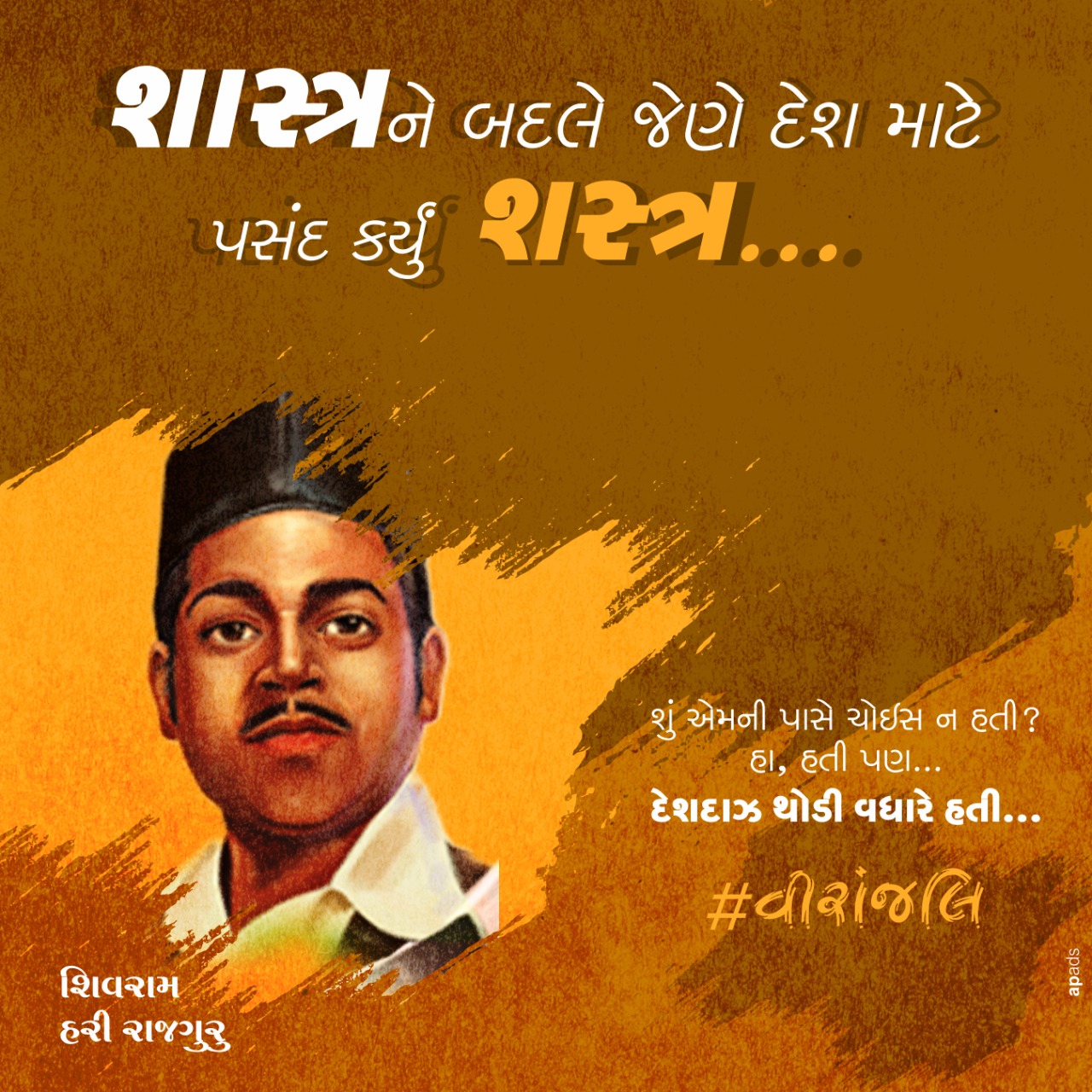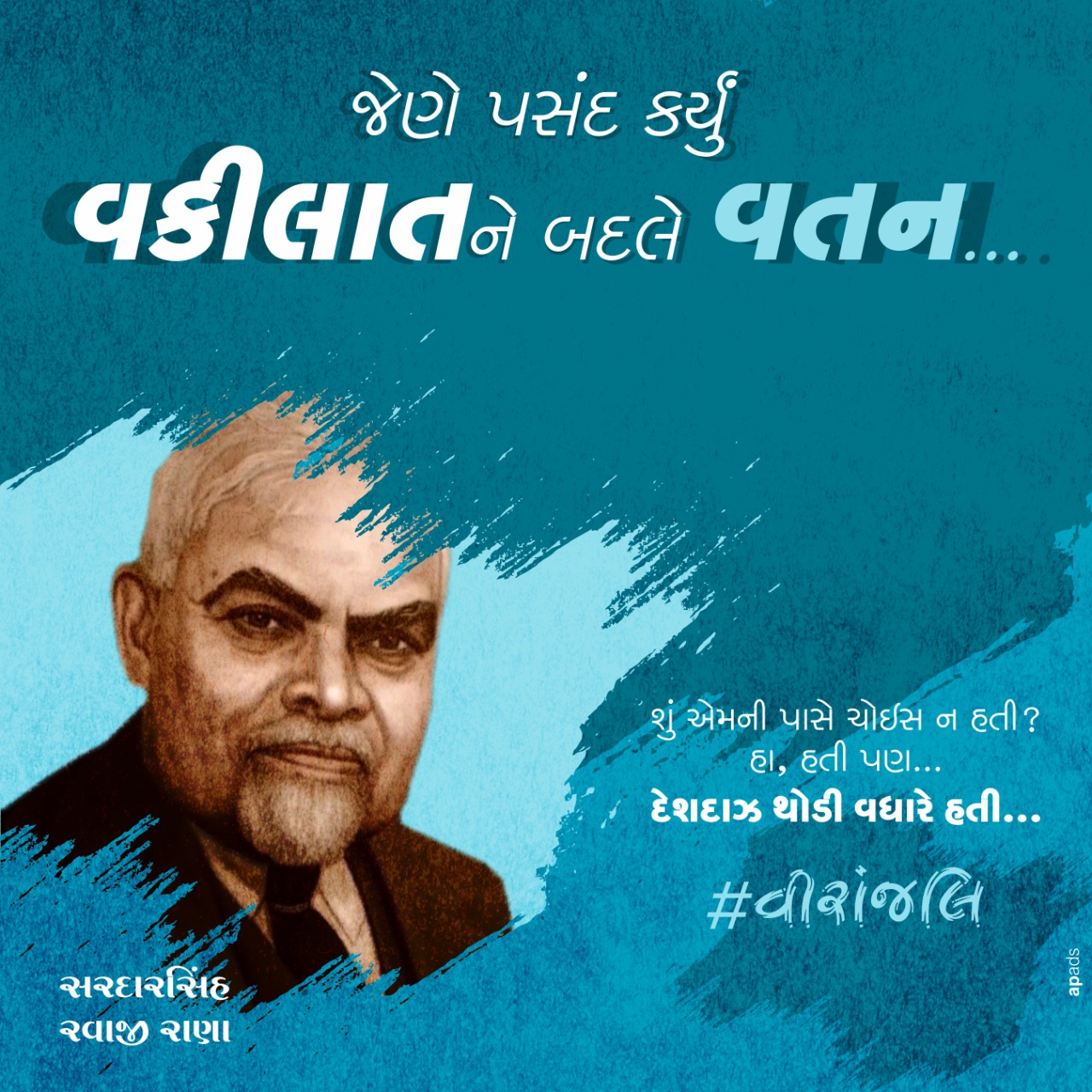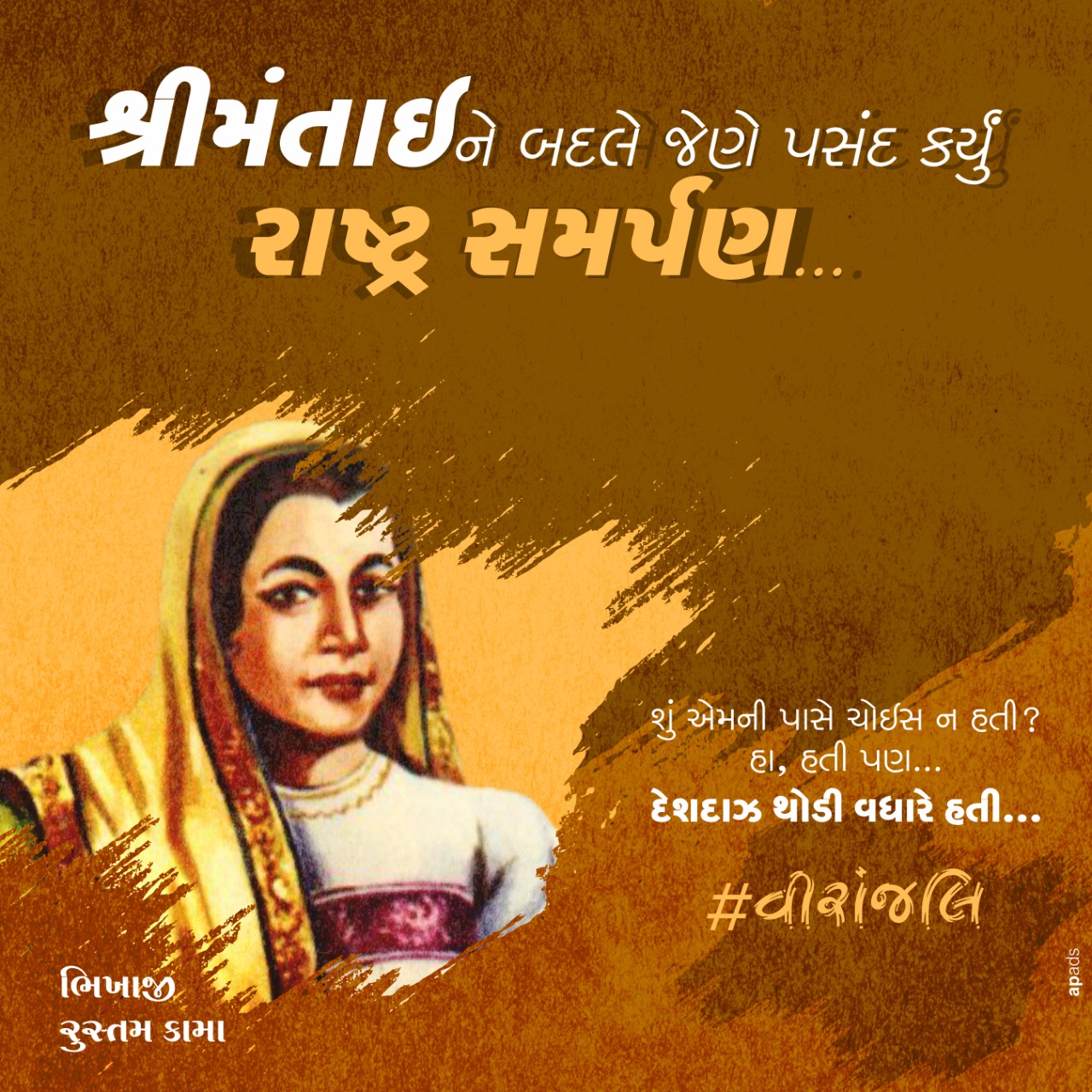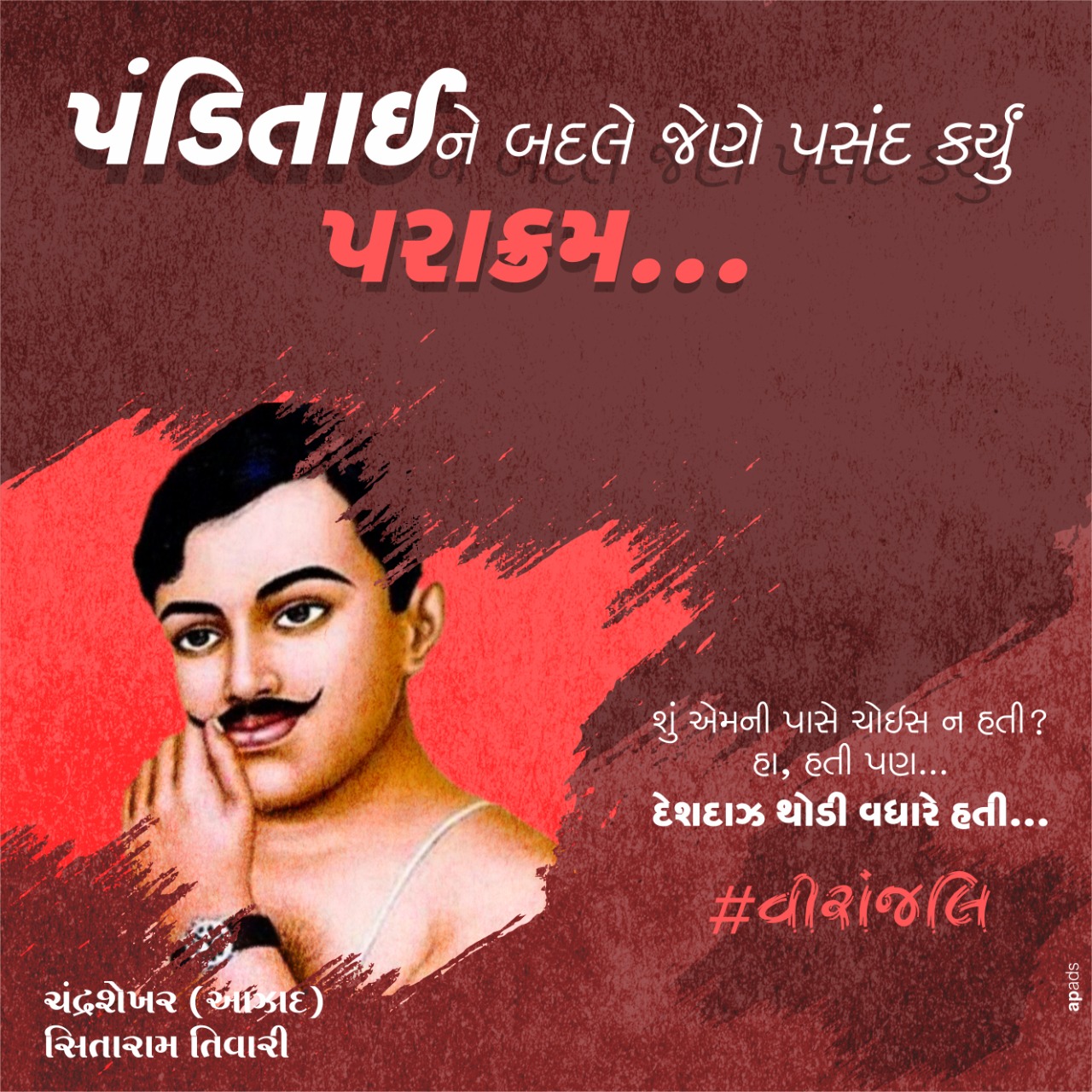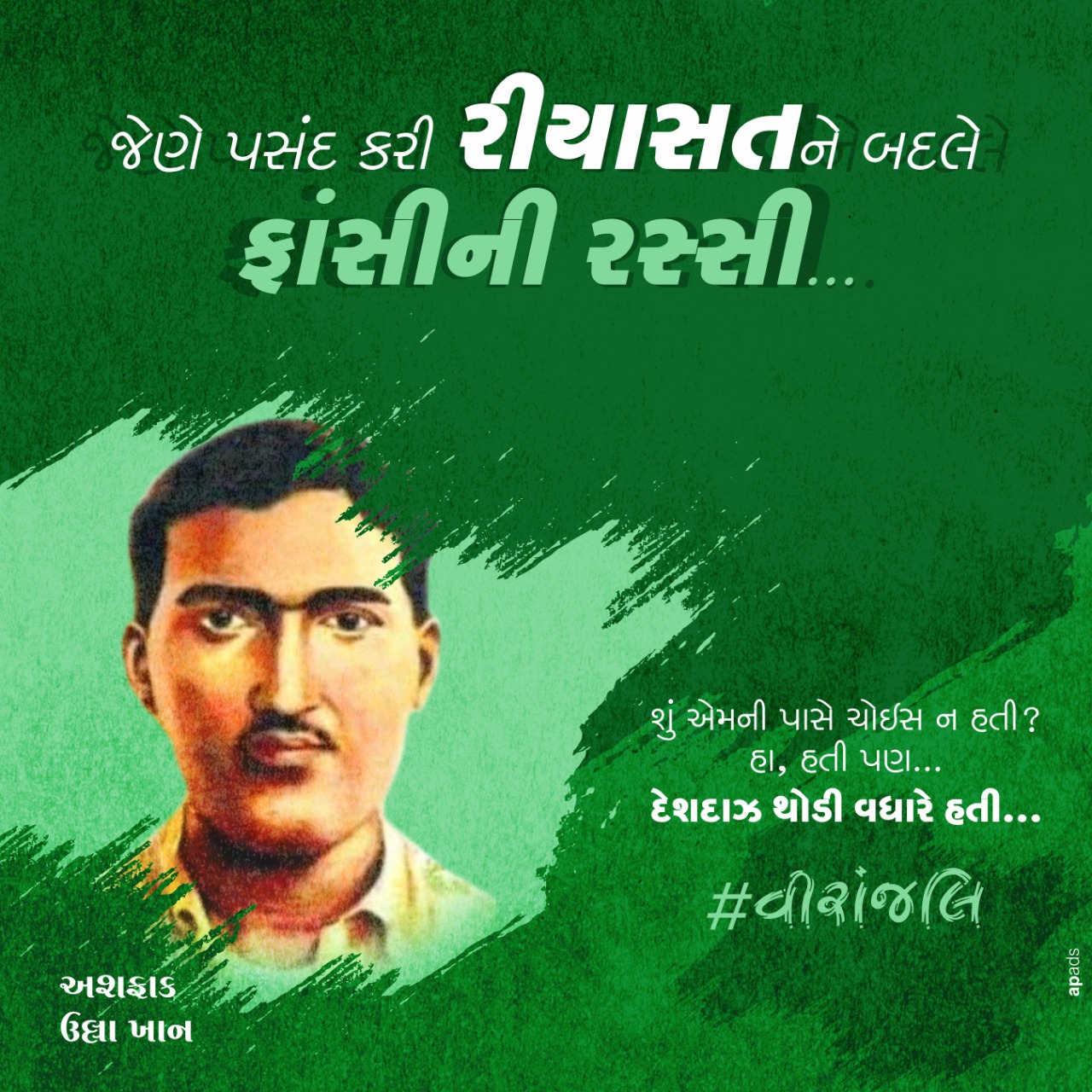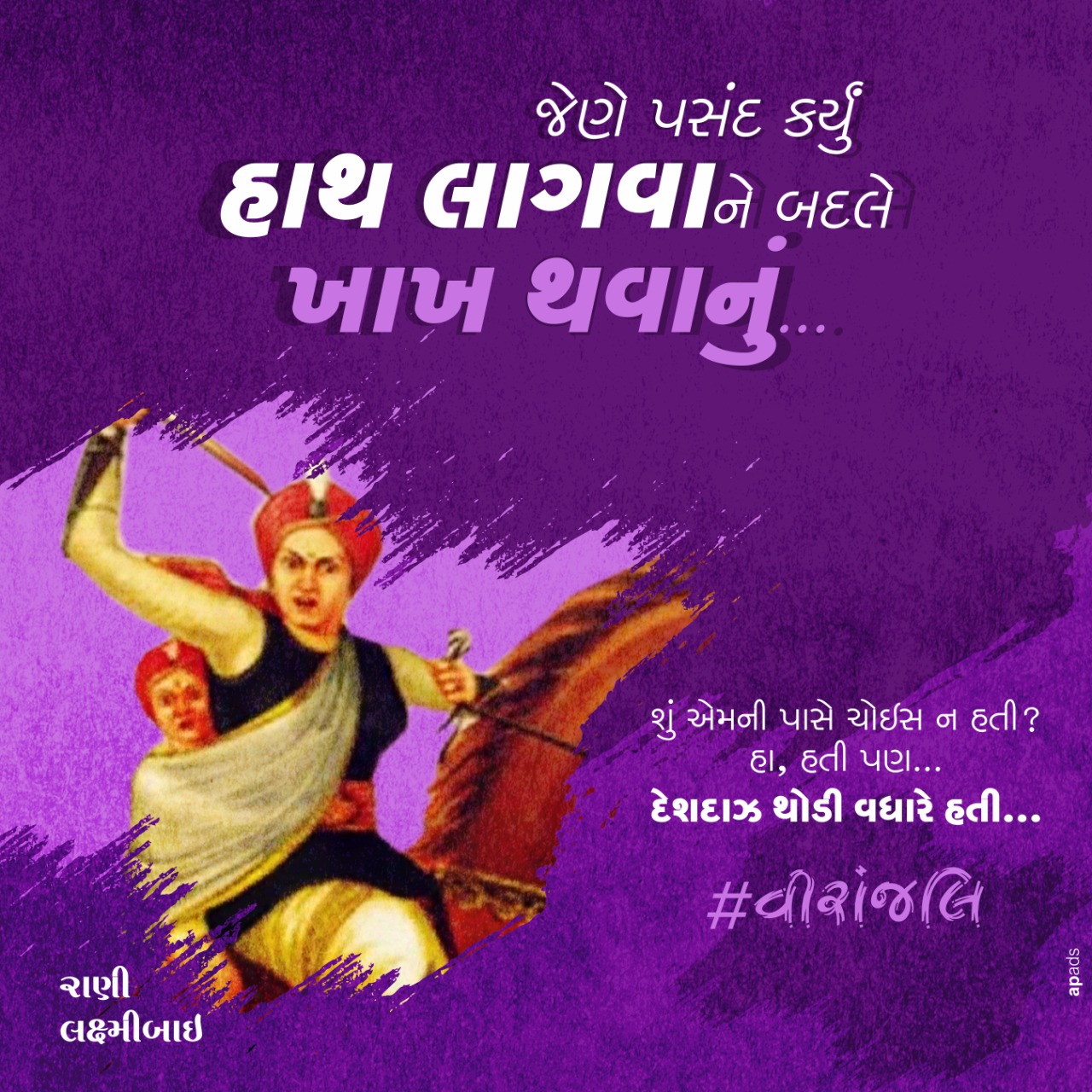 Design & Share Your Selfie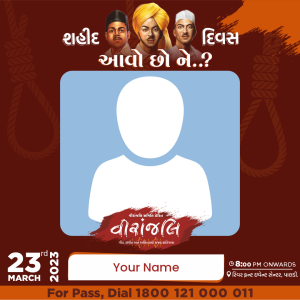 We are looking for Volunteers to join us to spread awareness about Viranjali in youth around you. Are you interested ? Please click below button and fill up your details, One of our representative will get back to you soon and will share further details.
Get In Touch With Viranjali Samiti